Forbes: Branding Briefing: How Some Greek Olive Farmers Are Making More Money Selling Less Oil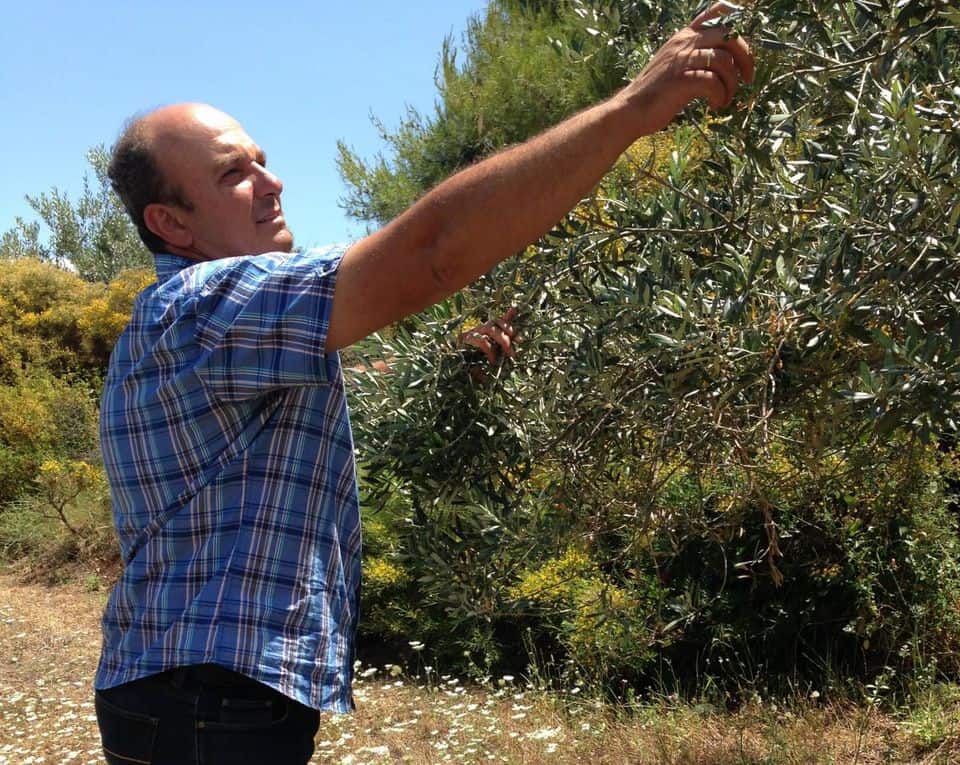 Vasilis Dimas stunned his agricultural community near the ancient city of Corinth when he switched his organic olive groves to the more stringent, premium category of "biodynamic" four years ago.
Neighboring growers called him a "mad man" and objected to his new-fangled farming methods. They worried it wasn't sustainable. But Dimas is among a group of olive oil farmers, pressers and distributors who believe high quality, artisanal olive varieties will help reclaim the ancient fruit from commodification and fraud.
"They learned the chemical way of producing by spraying fields," he said. As he walked through rows of olive trees, he explained that the leaves covering the soil look messy but serve as a natural protective carpet to the soil. Such methods create a more sought-after product for which customers in Germany and other markets are willing to pay a premium.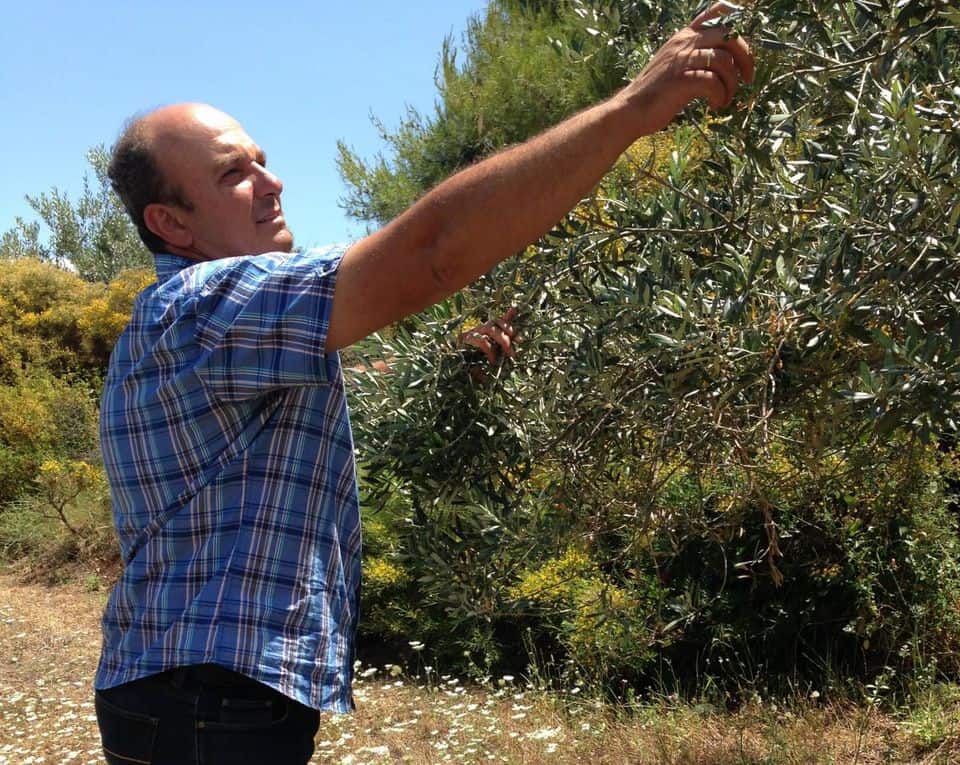 Farmer Vasilis Dimas tends to his biodynamic olive grove near Corinth, Greece. He finds using the biodynamic methods boosts the value of his olive oil brands. (Photo credit: Paul Glader)
Already, roughly 80% of the olive oil produced in Greece each year is of the higher quality, extra virgin variety. With a boom in olive oil globally, particularly in the more health conscious United States, some Greek companies such as Dimas are trying to improve their products as well as their marketing and branding to capture the premium price point in the organic, biodynamic and extra virgin categories.
The Biodynamic Association in Wisconsin defines Biodynamics as, "a holistic, ecological and ethical approach to farming, gardening, food and nutrition." Some industry experts consider the "biodynamic" or "organic" categories to be overwrought labels that promote archaic agricultural practices. They point out the bigger dividing line in olive oil is between the true "extra virgin" category and between lower quality olive oil that is often rancid, solid as a commodity and marketed fraudulently.
But nearly everyone agrees that Greece has a huge opportunity to improve its production and marketing of premium brands in the olive oil business. It could even be one pathway for the fraught country to boost its GDP as it struggles to emerge from its ongoing financial crisis.
McKinsey & Co., in a 2012 report, said food manufacturing and agriculture in Greece could go from $27 billion in revenue and 710,000 jobs in 2010 to $42 billion and 970,000 jobs by 2020. That would make a big impact in a small country of 11 million people, more than 25% of them unemployed. Greece "exports 60% of its output to Italy in bulk, yet in doing so allows Italy to capture an extra 50% premium on the price of the final packaged product," the McKinsey authors noted.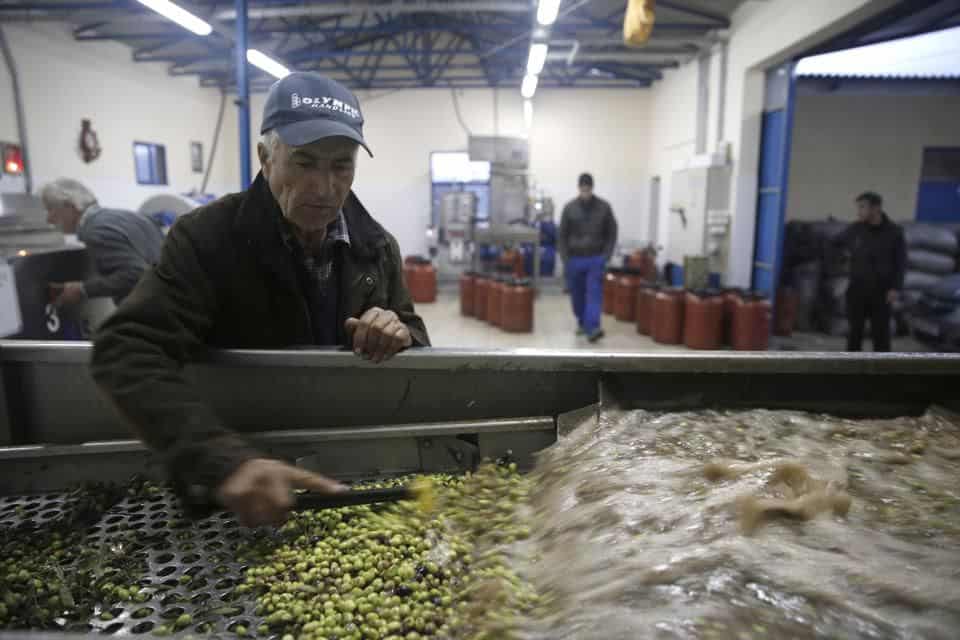 In this Saturday, Nov. 30, 2013 photo, Konstantinos Vasilopoulos operates a machine that washes olives at his family-owned olive oil business in Velanidi village, 320 kilometers (200 miles) west of Athens. (AP Photo/Petros Giannakouris) 
Greece has often been out-marketed (sometimes fraudulently) by Italy and Spain according to many experts, including Tom Mueller, who wrote Extra Virginity: The Sublime and Scandalous World of Olive Oil. He says that roughly 70% of the olive oil sold in the U.S. isn't extra-virgin even though it is labeled as such.
Olives and olive oils are the third biggest export for the Hellenic republic. Sales of Greek olive oil in the U.S. rose 62.5% to $26 million in 2013, up from $16 million in 2011 according to the U.S. Department of Agriculture. The country's global sales also increased 72% to $720 million, up from $374 million during the same time frame.
"Greece has the potential to be the organic grove of Europe," says Aris Kefalogiannis, chief executive officer of Greek Olive Oil maker Gaea Products SA. His company is a top selling premium olive oil producer in Greece, Germany and is expanding rapidly in the U.S. He's also part of a small coalition with Mr. Dimas in Greece that brainstorms ways to expand true extra virgin olive oil business from the country.
Kefalogiannis, a son in a notable conservative political family from Crete, played on Greece's national water polo team in three Olympics and attended graduate school in London. He started a shipping logistics company before switching to olive-related products and moving back to Athens. Gaea does roughly $14 million in sales per year and expects that to grow 14% per year.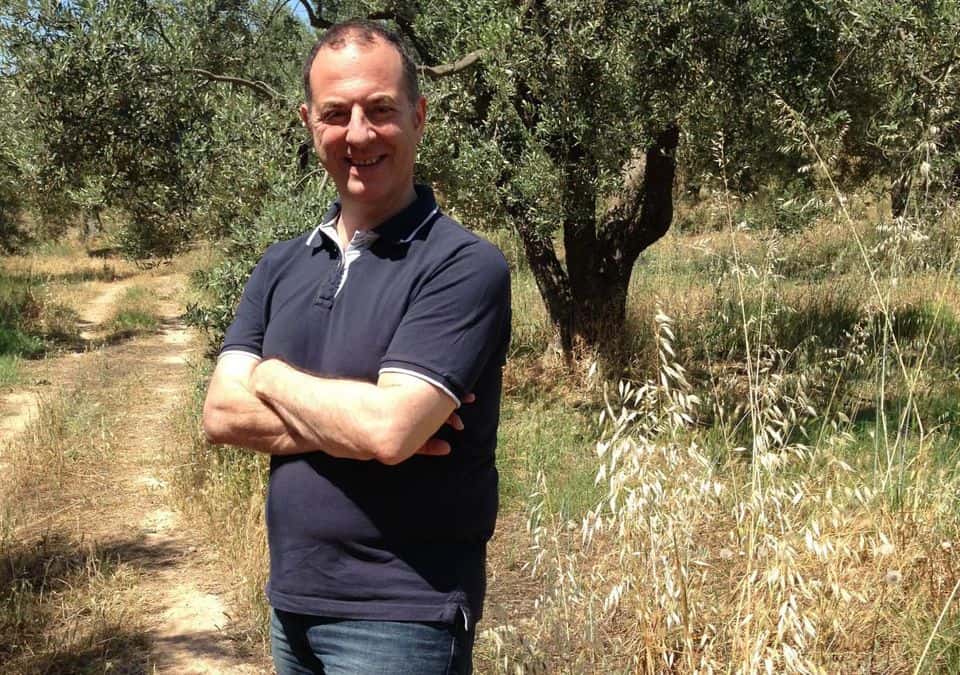 (Photo credit: Paul Glader)
Driving across the dry Greek mainland in a white Lexus last Summer, Kefalogiannis said he is focusing on branding, packaging and telling the story of Greece's traditional olive oil production methods. With cyprus trees whizzing by on our way to Corinth, he talked about the Greek financial crisis as well as the seemingly Sisyphean task of expanding Greek brands in the global agricultural market. (Sisyphus, by the way, was the cruel king of Corinth who was forced to roll a huge stone up a hill in Hades only to have it roll down again when he neared the top.)
The Greek financial crisis affected some of Gaea's sales in Germany and other top markets last year. But his company is introducing new snack products and expanding in the U.S. after hiring a U.S. chief named David Neuman who previously ran Italian brand Lucini Italia, which sold to California Olive Ranch in 2015.
"Italy makes some beautiful olive oils. But they have been riding on the coattails of the Greeks, buying olives from all over the Mediterranean and passing it off as Italian olive oil," Neuman says. "This is the moment when Greece can recapture some of that market."
Neuman expects the company's U.S. sales to double in 2016 to $6 million, up from $3 million in 2014. "There is a major consumer shift to quality," he said. "We are just one of the brands people identify with quality and ethical food production."
While some Greek olive producers have struggled, Neuman said having a branch in the U.S. has helped the parent company maintain its cash supply. When credit was tight in Greece in the Summer of 2015 as debt negotiations with the EU stalled, the U.S. subsidiary could pay a bill for the parent company and take a credit. "It kept them in business," Neuman said. "We could keep sending money as needed." Meanwhile, Gaea's sales have continued to grow 28.7% in Greece in 2015, even while Greek's retail food industry slipped 25% in the same period.
Greece gained market share from Italy in recent years, particularly in the premium segments such as extra virgin olive oil, organic oil and biodynamic oil. Italy had been plagued with lousy weather conditions, a tree disease and an olive fruit fly that caused production to slide by 34%. Roughly 1 million of the 10 million olive oil trees in the Salento peninsula contracted a disease called Xylella fastidiosa or "olive ebola" that slowly kills the trees.
U.S. retailer Costco Wholesale switched the extra-virgin olive oil sourcing for its Kirkland Signature 2-liter bottle to Greece from Italy last year, replacing the green label and cap on the bottles with an Aegean blue. Whole Foods Market added Gaea oils and packaged olives in July at many of its stores in the Northeast. Though Italy and Spain remain powerhouses, "We've seen growth in olive oils from other origins over the past few years," says Dwight Richmond, global grocery purchasing coordinator at Whole Foods. He said customers are getting more sophisticated and interested in olive oils. He and others compare olive oils to wines, suggesting that American consumers could drive a boom in brands, qualities and price points. Whole Foods offers 15 brands of Greek olive oils across the company and is adding oils from California, Argentina, Australia, Tunisia, Chile and Palestine.
In downtown Huntington, NY, on Long Island pedestrians can find not one but two gourmet retail olive oil stores on Main Street. At The Crushed Olive, shoppers mill about rows of flavor infused olive oils and vinegars in stainless steel tanks. Customers can sample the oils by dipping pieces of bread into clear plastic tasting cups of the oils. The oils have exotic names such as "Persian Lime Fused," or "Wild Mushroom & Sage Infused." Staff members talk up the fused and normal varieties to customers. They knew about fraud in the industry but were not completely clear on the origins of the oils their company buys.
A block away on Main Street, George Munoz owns The Olive Tree, a similar but rival purveyor of fused olive oils. "There is room for everyone," Munoz says. "It's a healthy competition."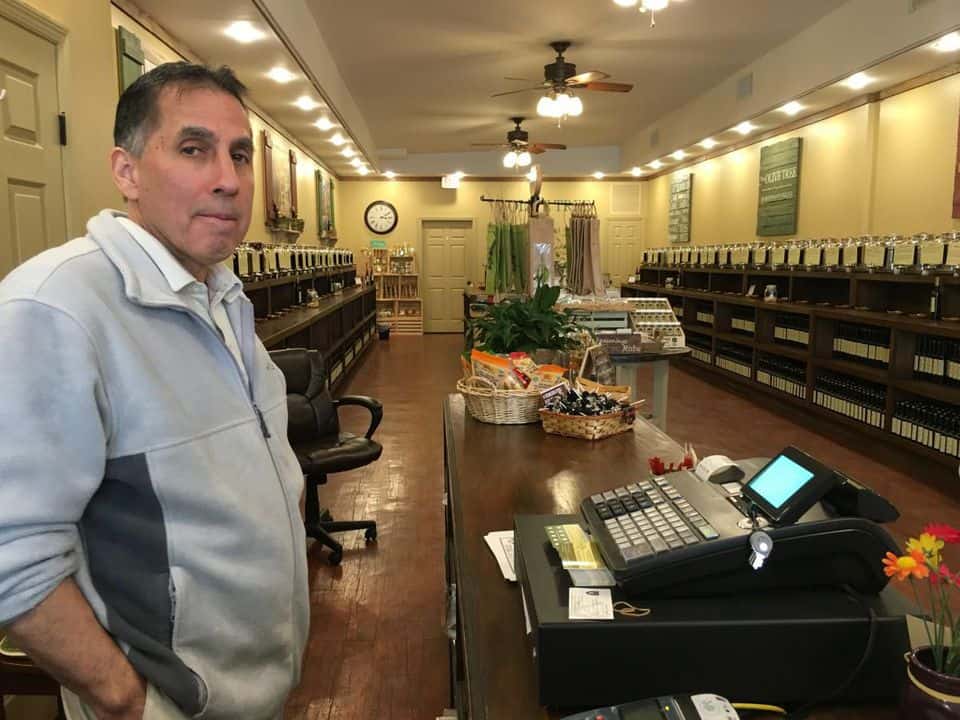 (Photo credit: Paul Glader)
While his rival store is a franchise, Munoz says he built his family-owned store with his two sons and learned the beer industry from his father. He plays Frank Sinatra over the store sound system on a Sunday afternoon as he packs a gourmet gift basket for a customer. He says his store was so busy in its first year, "I could barely handle it." He thinks a huge market exists in America of "educating people how to eat better."
A Global Trend
The trend of creating artisanal varieties that sell for a premium price is not isolated to Greece. Musa Al-Saket is CEO and Chair of the Alia Group in Jordan (Disclosure: Al-Saket is an EMBA classmate with me in The Berlin School of Creative Leadership), which has assets in mining, manufacturing and a radio station. In 2002, he started an olive oil company called "Zaitt," which means "oil" in Arabic because he has always enjoyed the food and thought it had more potential. "My grandmother used it on her face, her hair and cooked with it," he said.
Initially, he thought he would just package and sell the oil. But he opened a pressing facility as well to help maintain quality in the product and supply chain. He buys some olives from the north of Jordan near Mt. Nebo, where the prophet Moses is said to have viewed the promised land. Al-Saket says the olive trees there are hundreds of years old and have high antioxidant and lower fat content.
Saket has seen steady growth in sales of between 2% and 3% per year both within Jordan and with exports of his three brands of extra virgin and organic olive oils under the Nabali brand and the Holiva brand. He says many Jordanian consumers previously bought olive oil from large tins. His company was one of the first to sell the oil in premium bottles.
Olive farming in Greece generates $1.3 billion of income in rural areas and has an effect on 520,000 olive growers in Greece (many of them in the Peloponnesian region and on the island of Crete, which has olive trees that date back to Biblical times). Greek farmers tend to use more traditional production techniques rather than large-scale industrial methods.
On his 16 hectares, Dimas maintains a century-old grove of olives, grapes and figs. He allows plants to grow in the field that attract insects friendly to his crops and create natural barriers against problem insects. All the harvesting is done by hand. He drives the olives to a nearby press and normally labels them for the export market under his "Dimas" brand. And, so far, his methods seem to be working.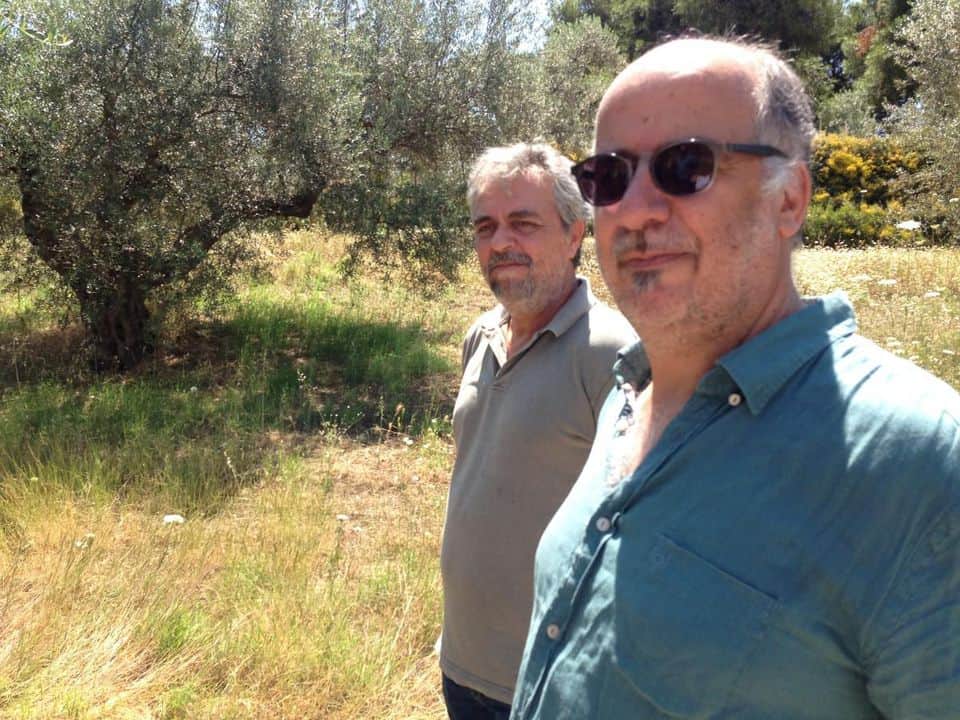 Agronomist Sophoclis Michaelides (right), imports Dimas' olive oils to Germany, where he sells them to stores that stock gourmet, biodynamic products. (Photo credit: Paul Glader)
Dimas, 45, has seen sales grow 10% every year since his company went biodynamic as "BioDimas." He sells 90% of his produce to Germany every year, where agronomist Sophoclis Michaelides, owner of BioIlios in Germany, helps market the Dimas brand and two private labels "Familie Dimas" and "Vasili's Dimas" to German retailers. Some retailers come to Greece to meet Vasilis and his family. And roughly 30% of Dimas' Eur 150,000 in annual revenue comes from selling extra virgin olive oil.
Dimas says the current harvest is on par with the previous year, producing up to nine tons of biodynamic olive oil, despite a nasty hail storm in the Summer of 2015 that damaged some of the olives and other fruit.
He expects revenue to soon reach Eur 200,000 per year, as his young fig trees mature. He hopes that allows him to maintain his quality levels and to send his children abroad for higher education. "We are not just lazy bums," Dimas says. "We are working hard."
@PaulGlader is a professor at The King's College and EMBA participant and media scholar at The Berlin School of Creative Leadership.